Shotcut 16.10.01 (2016) [Multi/Rus]
Версия программы
: 16.10.01
Официальный сайт
: shotcut
Язык интерфейса
: Русский, Английский, и другие
Лечение
: не требуется
Системные требования
:
• Windows®
7, 8.х, 10 (32-бит & 64-бит)
• GPU
: OpenGL 2.0 that works correctly and is compatible.
On Windows, you can also use a card with good, compatible DirectX 9 or 11 drivers.
• CPU
: x86-64 Intel or AMD; at least one 2 GHz core for SD, 2 cores for HD, and 4 cores for 4K.
• 32-bit apps still have the significant limitation that they can only use 2 GB RAM,
and Shotcut still uses a lot of RAM.
• RAM
: At least 4 GB for SD, 8 GB for HD, and 16 GB for 4K.
• 298 МБ после установки на Windows 7/32-бит.
Описание
:
Shotcut - мощное кросс-платформенное приложение с открытым исходным кодом, с помощью которого пользователи могут просто и быстро производить все стандартные операции по обработке видео. Данная программа позволяет быстро редактировать, коллажировать видеоролики с помощью широкого набора настраиваемых аудио и видео фильтров, менять настройки видео и аудио, указывать необходимую частоту дискретизации, выбирать подходящий кодек, настроить качество изображения, громкость. Присутствует возможность перекодировки Losless - без потерь, а также преобразования видеоклипов в любой из доступных видеоформатов.

Ключевые возможности:

Преимущества Shotcut:

Full List of Features:

Изменения в программе: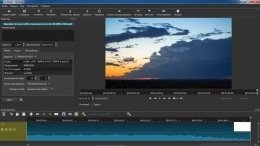 ---